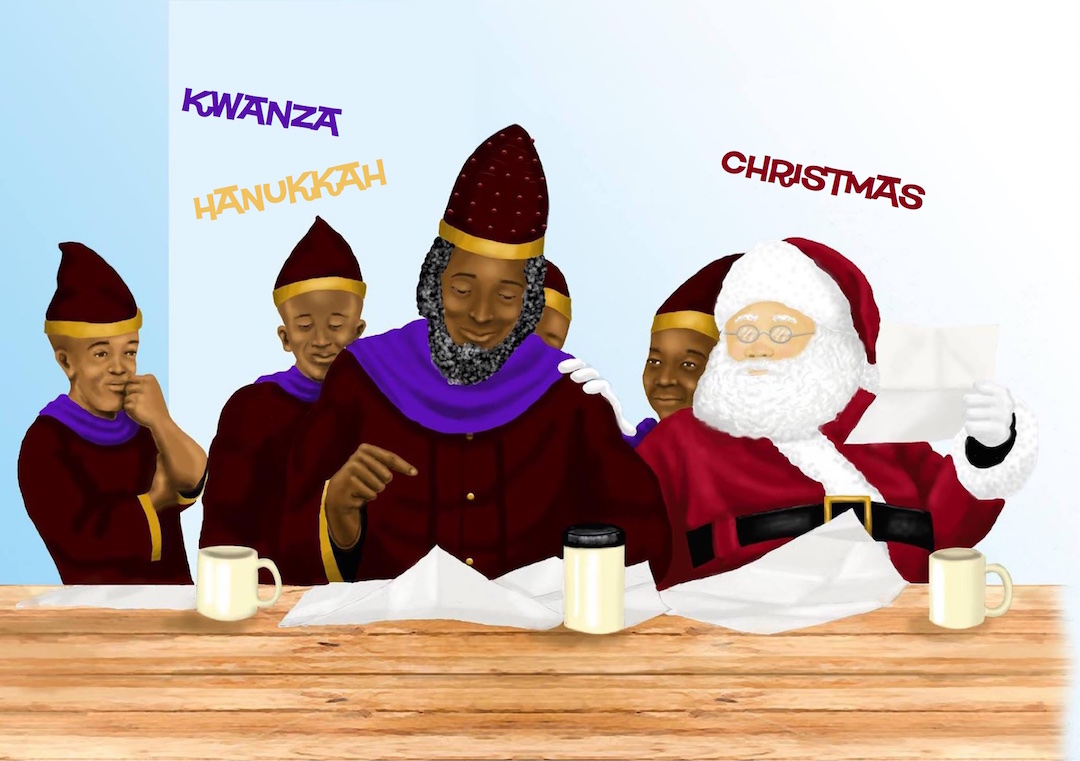 Africa Claus will help revive and restore faith in Christmas by answering age old questions about its true meaning and illuminate myths about how Santa Claus delivers presents to hundreds of millions of faithful children around the world, especially those that live in tropical regions and chimneyless homes.
Africa Claus is an ordained priest raised in the Christian faith. He was born in Axum (Aksum), Ethiopia of multi-ethnic parents and has strong connections to Christians, Muslims, Jewish people, persons of African descent in Africa and the African Diaspora, and peace-loving people throughout the world. He lives in a small town along the Blue Nile River with his wife, Mrs. Africa Claus, and all seven of their children.
Africa Claus drives a magical chariot pulled by seven ligers, carries a diamond studded enchanted staff with the power of teleportation and uses magical dust to make gifts. He speaks with the Holy Spirit about the needs and wants of children and is assisted by a secret society of African dwarfs.
Africa Claus is a creative work – a work of fiction and non-fiction – that shares the life and times of a servant-leader miracle worker whose legacy continues to the present. Africa Claus is a Saint revered for his spiritual conviction, kindness, courage, brilliance and special gifts. He is Santa Claus' oldest and dearest friend. Africa Claus is a multicultural character that has worked with Santa Claus to give gifts to faithful children around the world for centuries. His identity has been a closely held secret but is now being revealed to revive and restore faith in the true meaning of Christmas, sacrificial giving and the immaculate birth of Jesus Christ.
This poetic work about Christmas is appropriate for children ages 1 to 11.
Africa Claus is a magnificent story about the unknown history behind sacrificial giving and gift-giving on Christmas. Dr. Levitt eloquently captivates his audience in this masterful work of poetry, humor, African history and Christian story-telling. This is a one of a kind cultural treasure. Every family that celebrates Christmas and Kwanza should own Africa Claus. My grandchildren love it!
Pastor Roderick Zak
Dr. Jeremy I. Levitt, one of the world's leading scholars, is now one of the world's most innovative writers of children's books. By fusing together his encyclopedic knowledge of African history, folklore and poetry, Levitt has produced a work that should be required reading for all who desire for their children to have a more robust, diverse and inclusive understanding of Christmas.
Dr. Matthew C. Hopwood
A brilliant Christmas story told with love, adventure and imagination. Dr. Levitt has authored the most important and spectacular Christmas story in decades. My children learned their ABC's and poetic expression reading Africa Claus.
Tammy Love
An original and imaginative story written in the spirit of Love and Generosity. A beautiful message to read at the holiday time for children of all ages.
Linda L.